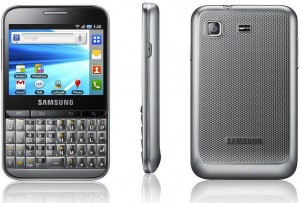 PROS –
Good Build Quality – SAMSUNG has appreciably improved its build quality on this Handset. Useful Slider on USB cum Charging Port. Convenient 3.5mm Headset Port, Volume & Power Switches.
Convenient Slots for SIM and SD Card. Slots don't interfere with the Battery.
Large Display, Convenient Keys, Comfortable Touch, Comfortably Large Font Size for easy reading.
Feature Packed Mobile – 10/10 Score on Features other than Camera (have not evaluated it yet).
Good Quality of SAMSUNG Supplied Accessories viz. SANDISK 2GB SD Card, Charger, Wired In-Ear Headset, Carrying Pouch and Data Cable.
Very Easy-to-Use and Personalize for a Proficient Smartphone User.
Very Good Value-for-Money, specially for a Touch and Type Handset. The only Phone which delivers better overall Value, Stability, Ease-of-Use and Performance at equivalent pricing is the Symbian S60 based NOKIA E63 Smartphone in spite of the fact that it has much fewer Features and lower Technical Specifications.
Best Buy Product from Price and Performance points of view for anyone wanting to make a move to Android with Thousands of Applications from Symbian/ Bada/ other Proprietary OS Mobiles; have not evaluated the Camera yet.
CONS –
With most Applications and Features enabled on a 2G Network, the Battery drains out very quickly, within just a few hours even though it is of a Higher Capacity than equivalent Motorola and the closest HTC handsets. The Battery Drain is extensive primarily due to Multiple Tasks being run simultaneously in the Background by the Phone such as Push mail, Gmail, . Carrying an AC/Car Charger/ USB Data Cable is a MUST for fail-safe performance – which is Impractical as well as convenient most of the times. The Nokia E63 has a Killer Battery in comparison.
Display is Large but not with 16 Million Colors and an Owner migrating from Nokia can feel that Difference.
The First Impression to a Non-Owner presents it as a low end Phone since the Phone is extremely Light due to light weight Plastics used in the Phone.
The Back Cover could have had been more easy-to-remove for replacing a Low Battery with a Second One (Spare Bty. to be purchased separately).
The Back Cover could have been a Steel Cover, it would have added a little more weight to the phone, dissipated more Heat and made the Phone look Better.
The WHITE Color Variant should also be available, it looks better than Silver on the Samsung India website.