The CES 2012 has been a handful of announcements with each mobile brand launching its set of devices to be launched. Sony Ericsson was not far in the league as it also introduced a host of gadgets and two new Xperia Smartphones to its portfolio. The smartphones are named the Xperia S and Xperia ion. The devices have brilliant and dynamic specs making devices of the future difficult to predict while making use of Google's Android OS.
The Xperia ion would be first smartphone with LTE support by Sony. The phone would be exclusively available to the US mobile carrier AT&T.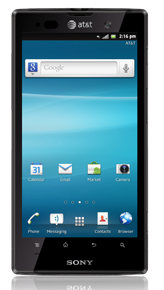 Xperia ion Smartphone Quick Specs:
4.6 inch HD display with Mobile BRAVIA Engine (1280 x 720 pixels)
1.5 GHz dual-core processor
16GB internal flash storage
Android 2.3 Gingerbread
12 MP rear camera with Sony Exmor R technology and full HD support up to 1080p (Fastest image capture time of 1.5 seconds directly from standby mode)
1.3 MP front camera (has HD support up to 720p)
HD Sharing via DLNA, HDMI and BRAVIA sync.
PlayStation™ Certified (A new entertainment and gaming experience on its way with access to Sony Entertainment Network)
The Xperia S is yet another powerful handset with even bolder specifications those are quite similar to the Xperia ion. The smartphone would be a global release and is expected to be available by the first quarter of this year.  The device is one of the first smartphones that belong to the Xperia NXT Series featuring a new dimension towards product design and UI termed as "Iconic Identity" by Sony.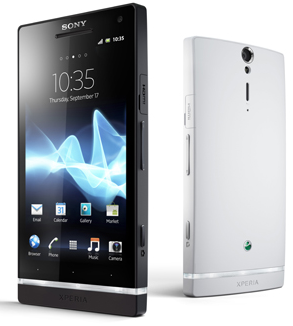 Xperia S Smartphone Quick Specs:
4.3 inch HD display with Mobile BRAVIA Engine (1280 x 720 pixels)
1.5 GHz dual-core processor
32GB internal flash storage
Android 2.3 Gingerbread (Upgradable to Android ICS 4.0 by Q2 2012)
12 MP rear camera with Sony Exmor R technology and full HD support up to 1080p (Fastest image capture time of 1.5 seconds directly from standby mode)
1.3 MP front camera (has HD support up to 720p)
NFC (Near Field Communications) access throughout apps, services and Xperia SmartTags.
HD Sharing via DLNA, HDMI and BRAVIA sync.
PlayStation™ Certified (A new entertainment and gaming experience on its way with access to Sony Entertainment Network)