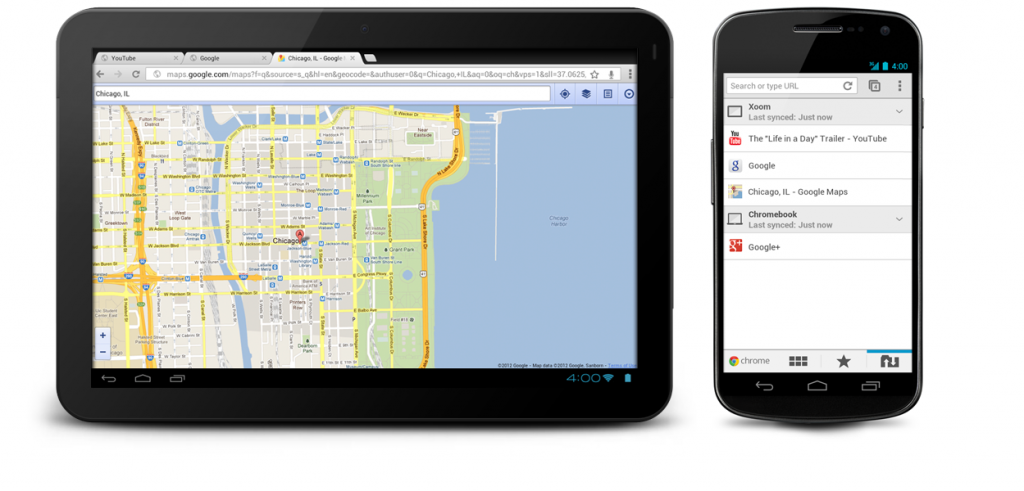 Google Chrome for Android is finally here although the app just works on Android Ice Cream Sandwich 4.0 based devices. The browser seamlessly integrates speed and simplicity inherited from its desktop duo. Google Chrome for desktop has gained popularity by topping charts and exceeding downloads in comparison to competitors like Mozilla Firefox and Internet Explorer. The sad part of the story is that the browser only supports ICS 4.0 that hardly accounts for just one percent of the total devices presently active.
Chrome for Android adds single Sign-In that allows access to open tabs throughout various platforms i.e. Desktop-Smartphone-Tablets etc. Users may also get website suggestions based upon the most frequently visited destinations with the feature to sync bookmarks for quicker and faster access.
Since the app is still in its beta phase with the possibility of testing it first to limited devices we hope that it should be available across all flavors of Android including Froyo and Gingerbread variants as these are still being shipped with new smartphones while being actively used on existing devices.
The Chrome Beta download is limited to specific regions that include U.S., Canada, UK, France, Germany, Spain, Australia, Japan, Korea, Mexico, Argentina and Brazil.
Download Google Chrome Beta for ICS 4.0 : Android Market
Google Chrome Beta ICS 4.0 APK : Download Now