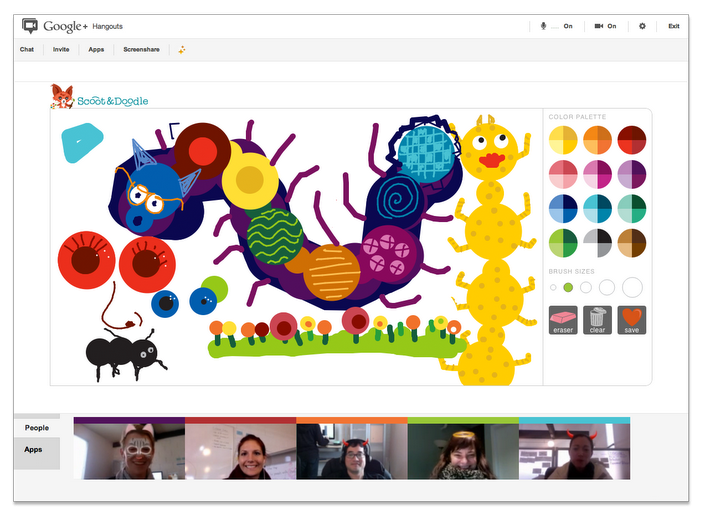 We've heard of Facebook Apps, Android Apps, iPhone Apps and so on, its Google now who is now ringing the bell by introducing an all new suite of third party applications that are now a part of the Google+ Hangout. The buzz was shared via a Google+ Post by +Amit Fulay (Product Manager for Google+ Hangouts). When users start a hangout, they may click on the "Apps" tab on the top left to gain access to the featured and recently used apps. The applications introduced today are an introductory set of apps, just a beginning to new apps being evolved and shared over Google+.
The introductory set of apps showcased includes:
+Aces Hangout, for playing poker with friends, face-to-face-to-face
Clubhouse Challenge by +Bravo, for testing your pop culture IQ against other teams
+Cacoo, for wire-framing, mind-mapping and diagramming with others
Google Effects, for trying on headwear, eyewear or facial hair
+Scoot & Doodle, for drawing and coloring with the people you care about
+SlideShare, for co-viewing presentations, docs and videos
The introduction of these apps has opened a horizon for Google+ developers to share and contribute new and interesting stuff to the community. Developers can check out the Google+ Developers blog for more updates http://goo.gl/CUAJ0
Besides the aforesaid apps standard Google apps like Google Docs, Youtube etc. can be used as well. This can act as very effective medium to grow and thrive effective conversation including corporates, student groups, universities and institutions. Google+ Hangouts allows folks with an option to have a group video chat with up to 10 people simultaneously for free. For all of you who haven't yet tried Google+ Hangouts should surely give it a try.
Image Gallery