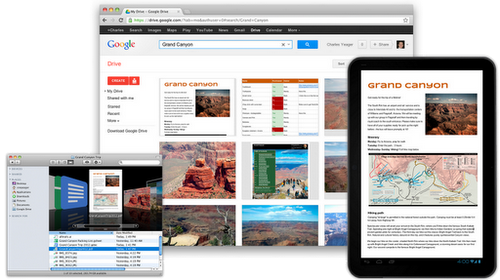 Google's much awaited online cloud storage service 'Google Drive' is finally out moments ago, after all rumors, leaks and news in the air we've got all the information on what Google has to offer us. Google Docs is integrated as part of the online service that allows users to share, collaborate and work on new or existing documents, spreadsheets, PDF's and more within the framework. Data means portability and keeping the same in mind 'Google Drive' offers cross platform functionality over the Web, PC, Mac's and Android. Big G is still working on an iOS application for the Google Drive, which is still in the pipeline. Google has also taken an initiative for people who are visually impaired by providing access via means of a Screen Reader.
Cloud Storage has already been a part for mobile and desktop users via leading providers like Evernote, DropBox, Box.net and others. Dropbox had introduced its link share feature to its app for all platforms earlier today, we also mentioned the innovation part that had to be in place for Google Drive to be a success. Searching for documents should no longer be a hassle as multiple search options include search via keywords, filter type, date, file type and much more. To make it even peppier Google has introduced Optical Character Recognition (OCR) technology integrated to its search mechanism that would allow text within images or scanned documents to be visible across search queries. The feature is still developing and is in its early stages that should get improved as the service evolves.
Google Drive starts initially with 5GB of free storage space for users. The premium paid variants start with 25GB at $2.49/month, 50GB at $4.99/month and massive 1TB at $49.99/month. To expect even more out of your paid storage, you get an upgraded Gmail account with 25GB storage upon subscription.
Google aims at integrating the cloud service seamlessly towards all its products and platforms. Google+ users can add photos directly to posts from their 'Google Drive' accounts. The feature would also be witnessed across Gmail to attach files, documents, and more straight from the web. The platform would soon be widespread with third-party developers already working in place to add new stuff.
Google Drive can also be added as an app for Google Chrome via its web store. We've got enough of news and things to experiment for today, do checkout this new service at http://drive.google.com/start/
Download Google Drive for Android, click the link below to begin download. If you have already tried the app, please share your view by dropping by a comment.
Download Google Drive for Android from the Google Play Store
(Requires Android 2.1 or higher)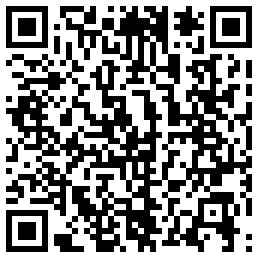 Scan the QR Code or click the image to begin the download
via Google Blog