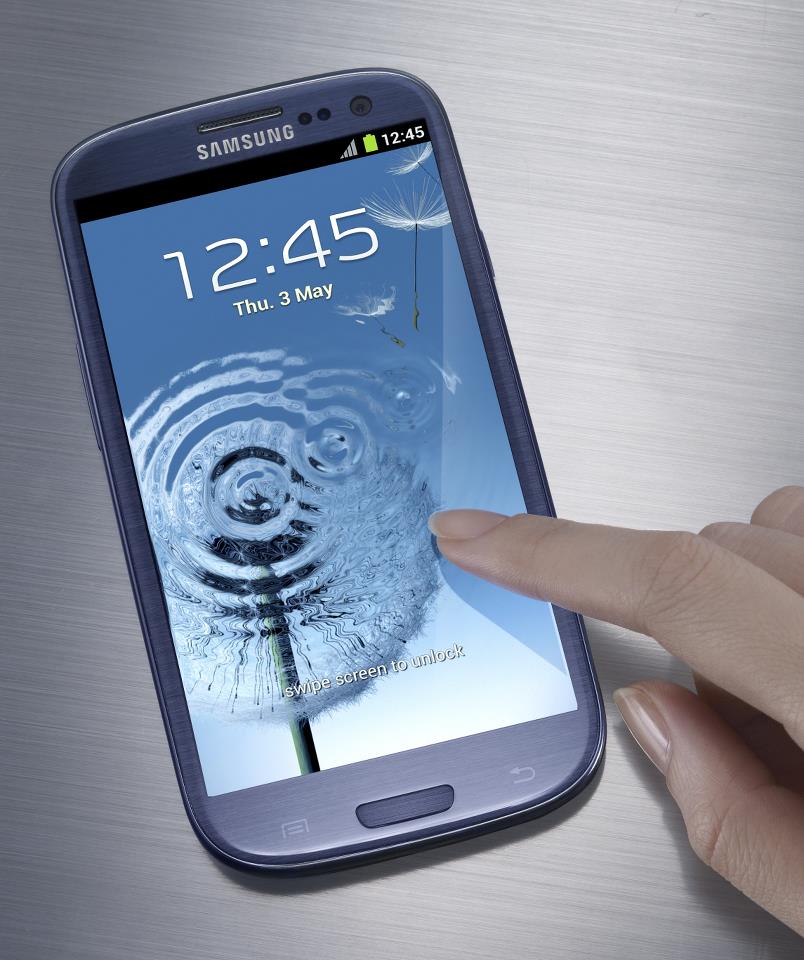 The big day was finally in and the much anticipated and awaited Samsung Galaxy S3 is here to surprise us all with its delightful touch of nature. The first thing to start over is the event being live streamed that has allowed millions of  enthusiastic Galaxy Fans and Bloggers to be a part of the grand event.
Samsung has given an ear to assimilate feedback from its existing users for the Galaxy S2 and Galaxy S to design a smartphone that is intelligent enough to welcome the sense of being human. The device flaunts an amazing 4.8-inch Super AMOLED Display (1280×720 pixels) with an astonishing image density of 306 PPI (pixels-per-inch), relatively as good as Apple's Retina Display. Samsung's Exynos 1.4 GHz Quad-Core Processor would showcase multitasking experience to be overwhelming with 1GB RAM to supplement its needs.
For all you peeps who love to shoot, capturing images would be even more fun with an 8MP that comes with zero shutter lag and a response time of less than 1 second, it supports Full HD Video at 1080p, while the 1.9MP front camera supports HD Video at 720p. The front camera also supports human face recognition that prevents the display to dim while you are using it. Samsung has also introduced loads of social sharing features including NFC with Wi-Fi direct, Wi-Fi Boost, Video Streaming with its proprietary All Share Dongle allowing support for devices equipped with DLNA, and Best Photo that automatically captures several shots for your images and chooses the best one automatically.
An incorporated natural voice recognition client called 'S Voice' helps perform voice actions and human gesture recognition in 8 different languages including British/American English, French, Italian, German, Japanese, Korean and more. It seems Apple's Siri might have some competition to meet in the months to come. You can also use voice commands to wake up or unlock your phone, the examples include statements like ' Hi Buddy' and more.
(Samsung Galaxy S3 1st Video Commercial via Youtube)
On the design front the gizmo still maintains an easy to carry layout despite the fact of the increase in its screen size. It weighs 133gms and 8.66mm in width, now that is slim for a full touch form factor. Considering battery as a major concern for all users on the Android platform, we get a high-capacity 2100 mAh battery with support for multiple accessories including Wireless Sharing kits introduced by Samsung, a technology to be innovated for the first time in the smartphone segment.
Android Ice Cream Sandwich 4.0 is what that comes loaded, topped up with Samsung's Nature Touch Wiz UI. The secret behind the word 'Nature' is unveiled by the overall representation including animations, sounds, photos and the physical build, which have been inspired by keeping the environment in mind.
The Samsung Galaxy S3 is planned to release across Europe and 10 other regions including Delhi (India) starting 29th May 2012. It would be available in two colors i.e. 'Pebble Blue' and 'Marble White'. We would witness both the 3G and the LTE variants for the S3, the LTE variant would be available across the U.S. with more details about the same would to be revealed at the U.S. launch event. As Android and the Google Play Store evolve as thrilling hub for free and paid apps, the future for the Samsung Galaxy S3 is filled with smoothing charisma and glamor.
Samsung Galaxy S3 Photos
(Source : Samsung Mobile Facebook Page)