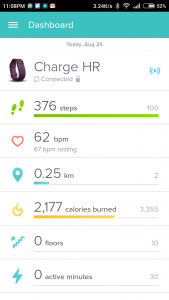 Fitbit's globally successful ChargeHR Heart Rate + Activity Wristband is now available in India.
The Fitbit ChargeHR blends state of the art technology with excellent design to deliver a very impressive, high performance, useful and value-for-money product.
The ChargeHR tracks steps, distance, floors climbed, calories burnt, sleep quality and much more. The ChargeHR lets you stay connected with caller ID, time and date on its OLED display. The ChargeHR wirelessly syncs with your smartphone and computer and lets you monitor your fitness trends and provides you the motivation to reach your fitness goals everyday.
Fitbit ChargeHR is widely acclaimed as the World's Best Overall Fitness and Heart Rate Tracker.
The Key Features of the Fitbit ChargeHR and its companion Android App are highlighted in Pictures below.
At the outset, we highly recommend the Fitbit ChargeHR and shall be sharing with you its Detailed Review soon. Stay tuned.
The ChargeHR is available in India for Rs. 12,990/-.
To know more and purchase Fitbit Fitness Trackers online, click here:http://amzn.to/1KKNIj9