Consumer Alert
Do you know that India's leading online Retailer, Flipkart is charging up to 126% more than its online and on-air competitor, HomeShop18 for Books.
Please refer to the following Table to see a Comparison of Prices of Books offered by Flipkart and HomeShop18 after Discount and Shipping. In a random survey of 20 Books on Cooking, I found that Flipkart is More Expensive than HomeShop18 by up to 126% !!!
Before you order your next Book on any subject online, compare its price on the websites of Flipkart, HomeShop18, IndiaPlaza, Infibeam, IndiaTimes Shopping, Uread and Junglee (a price comparison service by Amazon). Check-it out for yourself and in just a few minutes, you will be able to get the Best Price of your desired Book and More Value for your Money.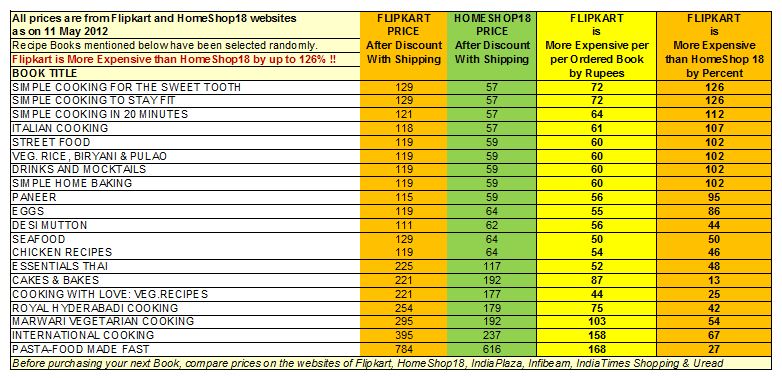 (Click on Table for Enlarged View)
What's more… Homeshop18 is delighting Book Lovers by offering an Additional Discount of 20% on purchase of Books worth Rs. 500/- using a Gift Coupon Code upon check-out. I shall be posting the Gift Coupon Code and its related details shortly on this site.
A quick comparison of the Quality of Packaging of books ordered to Flipkart and Homeshop18 reveals that Flipkart is far behind Homeshop18 on this front too.
Each and every Book shipped by Homeshop18 (including those costing below Rs 100/-) came in an EXCELLENT Triple Layer Packaging, viz. an outer Tamper-proof, well taped Plastic Cover for Weather Protection, a Cardboard Box and a Corrugated Covering over the Book. Each Book itself was shrink wrapped and accompanied a complimentary Ball Pen (can be a short-term offering), a Coaster and 2 decent Bookmarks.
Most Books shipped by Flipkart came only in a Plastic Envelope. Each Book was shrink wrapped, although I found a book to be full of dust in spite of the shrink wrapping. Apparently, the shrink wrapping of the book was done, after it had become dusty. Each Book accompanied a decent Bookmark.
 To my utmost surprise and in clear violation of the Legal Metrology, Packaged Commodity Rules of India, Two Books purchased and received from Flipkart were advertised and sold above the stipulated Maximum Retail Price (MRP) printed on the Books.
Upon contacting Flipkart about the aforesaid issues, leave alone refunding the excess amount charged, disgustingly Flipkart's Customer Service did not even bother to apologize for advertising and selling the aforesaid Books above their stipulated Maximum Retail Price (MRP). It seems Flipkart is abusing its market dominance and considers itself above the Laws of our Country.
The aforesaid has forced me to check the MRP of all Books and other Products purchased by me and my family members from Flipkart.
Before buying from Flipkart, I suggest you to cross-check the Pre-Discount Prices and Accessories being advertised by Flipkart with the Product Manufacturer's website. You may get some Unpleasant Surprises.
To make sure that you are not cheated by Flipkart or any other Seller, prior to your  purchase of any Product online, confirm the 'Prices' and 'Standard Accessories' included with the Product from the Product Manufacturer's website.
For example, Manufacturers of most Laptops include and supply Carry Cases/Backpacks for Laptops as 'Standard/Included Accessories' and not as 'Optional/Paid Accessories'. Likewise, Many models of Mobile Phones come with Memory Cards and at times even Carry Cases and Bluetooth Hands-free Kits as 'Included Accessories'.
To make extra Illegal Profits, Sellers resort to Unfair Trade Practices by not informing the Customer about all the Accessories being supplied by the Manufacturer. They make extra Illegal Profits by selling the Included Accessories 'Separately' or offer the Included Accessories as a 'Special Offer' at an Extra Cost. By not including the supplied Accessories with Products like Laptops and Mobile Phones, the Sellers advertise the Products 'Without Accessories' at slightly lower prices, make the customers wrongly believe that their prices are lower than others and also create unfair competition in the market.
If a Seller has not provided you with all the 'Supplied/Included Accessories' specified on the Product Manufacturer's website, please post and share your experience here.
The above mentioned Price Comparison was also mailed to Flipkart. An extract of the reply received from Flipkart on 11 May 2012 is as under:
"Greetings from Flipkart! We regret to inform you that we are unable to offer you further discount on the books. This is the best price we are offering and please accept our apologies for disappointing you. Please write back to us should you have any other questions or need further assistance. Regards. Flipkart Customer Support"
To be concluded.
Coming Soon…

The truth about Flipkart's Unfair Trade Practices viz.
Non-Delivery of Ordered Products: Payments and Orders for which have been duly Accepted by Flipkart.
Misleading Advertising and Sales of Multiple Products above their stipulated Maximum Retail Prices(MRP).
Misleading Advertising and Sales of select Laptop Computers, without supplying the Accessories included by the Manufacturer.
The facts about the 'Terms of Use'  of 'flipkart.com'.
Note for Readers: Other than being a Customer, I, my family members, or talkabouttech.com are NOT associated/ affiliated with any online or on-air Retailer. This post has been written only for the benefit of Consumers at large. Please share this Post if you like it.