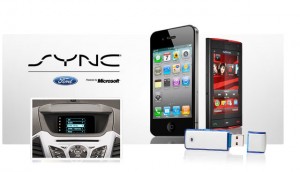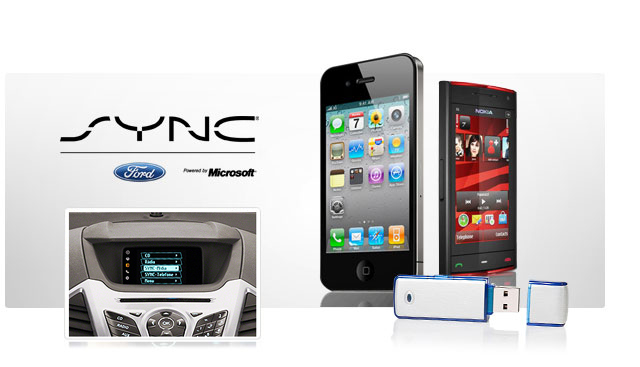 I sometimes fear that all the smart brains on the planet are either working with Apple, Samsung, Google or Microsoft. All the technological advances I have seen in the recent past are mobile tech, app tech blah blah. What about the rest? Has all of it fallen stagnant?  Hell, even the Space Program has been scrapped which gives rise to the thought that our advances to outer space will be limited to the moon.
I'm not going to take your time bashing NASA or our lack of will to push for more technological advances in areas apart from mobile tech. I will instead focus on a technology that takes help of your mobile tech and helps you DRIVE better.  Yes, folks driver BETTER and more safely.
I was impressed with the little advances and the big ones that Ford Motor Company has come up with in the recent past in this regard. They are of course, the front runners in electric car development and there are rumors' that they and Google are working together. This conjecture is purely based on the fact that first Ford Focus Electric rolled off the production lines straight into Google's lap.
I'm not going to waste your time on speculating what might be brewing there, what i have are snippets on Ford Tech that are going to rolled in their cars. Some might have already found their way in the Ford cars running on the roads, some might just be in production stage but it doesn't take away the fact that these are some simple but exciting pieces of car technology that you would love to have in your vehicle!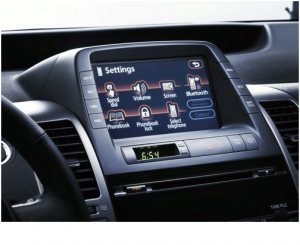 FORD SYNC: Ladies and gents, the name is self-explanatory. But before you put it off as a simple sync tech between your car and phone, I would like to point out that the absurdly simple things that you can do with this not only make your driving experience easier and efficient. It also makes you a SAFE driver.  Let's face it; we have always been distracted by our phone while driving at one time or the other. Hit a red light and we flash out our phone's to send a tweet or a reply to a message or answer a call.
Well, Ford SYNC lets us do that without us taking out the phone from our pocket and looking at it to do those tasks. Eyes on the road, hands on the steering wheel and you are controlling the temp of your or answering a call or LISTENING to the text message that you just received.
With Ford SYNC APPLINK you can talk with the apps on your smartphone, I would like to point out here that as of now there are limited apps that support this feature but Ford is working on getting developers for this. I found this feature very exciting because not only you get to control an app on your phone via your voice, it also lets you give in-app commands e.g. "change station" on Pandora and voila that's what Pandora does!
A heads up for all of you who want to get your hands on this – SYNC is going to feature in Ford's new SUV Ford EcoSport. Rumors are the launch of car is going to be early Q1 of 2013.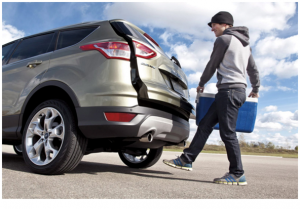 Ford Hands-Free Liftgate:  This has so far been my favorite feature. It's not really cut-throat tech and you would probably laugh if if I told you otherwise. But it's what I call "this is one of those simple features that I have always wanted". Picture you are out shopping and you come back with bags in both hands and now you have to take the decision of putting the bags someplace while you unlock and open your boot trunk. Well, what if instead of putting your bags down, you just kicked the underside of your car and the trunk door flew open? Cinematic ha? This is exactly what Ford lets you do with their Hands-free Liftgate. Yessir, UBERCOOL.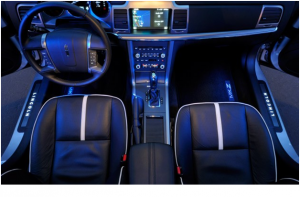 Ambient Lightning:  This one is just for the kicks. Feeling blue on a Monday? Ford's ambient lightning lets your car reflect your mood. All the interior lightning will glow blue and you and your car will be drowned in the same mood. The available colors as of now are Ice Blue, Soft Blue, Orange, Red, Green, Blue and Purple.
Pretty neat ha?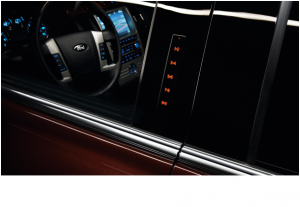 SecuriCode™ Keyless Entry:  Carrying keys in this day and age seems a little off; I mean there were sci-fi movies which put us in 2012 as driving cars without needing a steel key to start our machines. Fear not we are there! Instead of a key, with Ford's SecuriCode™ Keyless Entry you just have to punch in numbers and voila! This eliminates the risk that you forget the keys inside the car or for that matter forget the keys anywhere. The design is suave and yes, no fumbling for keys ever. Period.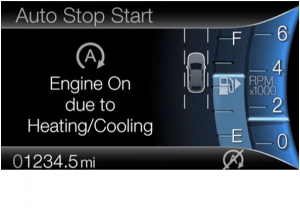 Automatic start and stop: In an economy where the fuel prices are going anywhere but down, this feature Is gold. As soon as you hit the brakes near the red light, the engine switches off and restarts as you lift your foot off the break. Pretty rad ha? All the other features and electrical components will be running, it's only the engine which will go to sleep.  Goes all long way in saving you cash on the fuel which burns while your car is stationary.
Open XC: This lil' baby is for the future, it's an API to your car, which makes it more responsive. It's like putting feelers inside your car which can communicate with you. The concept so far is to put an advanced operating system in your car which will do all those tasks that you used to do with your smartphone. All the services will be integrated inside the car. Presently the interface runs on a combination of Arduino and Android. And simply because it is part android, it can communicate with your android based smartphone as well. The possibilities of all the apps based on this are humongous. This interface is currently open sourced by Ford and they are hoping more developers will jump in and make this the grand feature in the cars of the future.