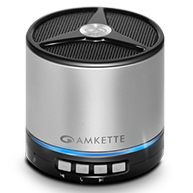 Amkette, the popular manufacturer of Floppy Diskettes during the nineties has diversified into PC Peripherals, Audio Video Accessories and Speakers. Amkette recently launched its Trubeats 'Metal' Wireless Speaker, a small ultra portable Power Speaker with an inbuilt rechargeable Battery, Bluetooth and Speaker Phone capability. The Trubeats 'Metal' Wireless Speaker is available from online retailers Flipkart, Amazon and Snapdeal for Rs. 2090/- onwards (MRP Rs. 2995/-).
The Trubeats 'Metal' Speaker is equipped with Bluetooth for wireless connectivity with Mobile Phones, Tablets, Laptops and other devices equipped with Bluetooth functionality. It is also equipped with Speaker Phone capability for answering calls using its inbuilt Microphone on the Desk, in the Car or Outdoors.
The build quality of the Trubeats 'Metal' Speaker is solid and impressive. It also looks decent. The Speaker is built with a 'Metal Alloy Drum' . The Metal Alloy drum enables the Speaker to produce very clear high and mid frequencies and good low and low-mid frequencies.  The Trubeats 'Metal' Speaker is equipped with 4 Buttons for Playback, Fast Forward, Reverse, Volume +/- and Power On/Off functions. The inbuilt Battery of the Trubeats Metal Speaker is charged via its Mini USB Port. It is equipped with Three Color LEDs, which attractively display the status of Bluetooth connectivity as well as Battery Charging.
The Trubeats 'Metal' Speaker is magnetically shielded. The anti-magnetic shielding prevents magnetization of nearby Electronic Devices and allows placement of the Speaker near Laptops, external Hard Disks,  and other electronic devices.
The Specifications of the Speaker are as under:
Speaker Size: 40 mm
Output: 3W
Frequency Response: 180Hz-20KHz
S/N Ratio: ≥80dB
Bluetooth Version: 2.1 Class 2
Profiles supported: A2DP V1.2, AVRCP V1.4, HSP, HFP
Range: Up to 10 m
Playback Time: ~ 8 Hrs
Weight: 315 gm
Specifications Source: Amkette website. We tested the Amkette Trubeats Metal Speaker and noted the following:
Pros:
Attractive, compact and ultra portable
Solid build
Anti-magnetic shielding for safe and convenient placement near other electronic devices
Clear Sound, specially the high and mid frequencies
Quick and easy connectivity with Bluetooth devices
Convenient Buttons for Music Playback, Forward, Reverse, Pause, Vol.+/- and Speaker Phone
3 Color LEDs attractively display the battery charging and Bluetooth connectivity status
Convenient Interfaces: Wireless: Bluetooth, Wired: Aux-in/Earphones Input, Mini USB Charging Port (although Micro USB would have been more convenient)
Playback time of over 5 hours over Bluetooth
Reasonable price, almost 50% of other popular Wireless Speakers available in the market.
Cons:
Not possible to interconnect Two Trubeats Steel Speakers for Stereophonic Sound
Handset compatibility issue over Bluetooth
Vol. Buttons do not operate in Aux Mode
Short Aux Cable ~18"
The Missing Bits:
No Setup/User Guide
No Battery Charger
Detailed Review:
Sound Quality using 'Aux In' via Laptop
We tested the Amkette Trubeats 'Metal' Wireless Speaker with Audio CDs and MP3 Music with Bit rates up to 320 Kbps on a Laptop using the supplied Aux/EP cable. The sound quality of this Speaker is very good, clear and distortion-free. It plays high and mid frequencies very well and responds well to Equalizer Changes. The Speaker also responds well to various Equalizer Settings from the Laptop. Upon playback of music from the Laptop, you do not miss the Second Speaker. However, the Speaker Volume cannot be controlled from Speaker.
Sound Quality on Bluetooth via Mobile
The Amkette Trubeats 'Metal' Speaker is connects very easily and quickly (in under 30 seconds) over Bluetooth. However, over Bluetooth, the Amkette Trubeats 'Metal' Speaker has Mobile Handset Compatibility issues. We tested the Amkette Trubeats Bluetooth Speaker with multiple Mobile Phones. The sound quality was nice and clear upon playback of music with the Motorola Moto G and Samsung Note (N7000) mobiles. However, upon playback of music with the Samsung Galaxy Grand Quattro mobile, we got an output with intermittent gaps. For as long as the sound played, it was very clear, but the intermittent gaps in music playback spoiled the listening. The intermittent gaps in music playback may be due to Bluetooth version compatibility or buffering issues. To avoid disappointment, before buying the Amkette Trubeats 'Metal' Speaker, check its compatibility with your mobile handset by playing music over Bluetooth for a few minutes. Buy this Speaker only if there are no gaps in music playback with your handset.
Call Quality on Bluetooth via Mobile
We tested the call quality of the Amkette Trubeats 'Metal' Speaker with Motorola Moto G, Samsung Note (N7000) and Samsung Galaxy Grand Quattro mobile handsets. The Speakerphone Call Quality was very disappointing across all the handsets with which we tested the Speaker. A very annoying echo is heard by the Caller when this Speaker is used. The Microphone of the Speaker is not very effective beyond approx. 12". The echo received by the Caller might be due to lack of Noise Cancellation, the proximity of the Microphone to the Speaker and the High Output of the Speaker.
The Small but Important Things
Playback Time over Bluetooth on Battery: Tested the Speaker over Bluetooth, on Battery for  approx. 6 hours. Amkette claims 8 hours playback time. Sweet!
Bluetooth Operating Distance: Approx. 10 feet with a brick wall in between.
Sound Output: Loud and Clear for a room size of 100-200 sq. feet.
Conclusion:
A good value-for-money ultra portable wireless speaker at a great price. Not recommended for use as a wireless Speakerphone. If you are not buying it for use as a Speakerphone, you will enjoy using it.