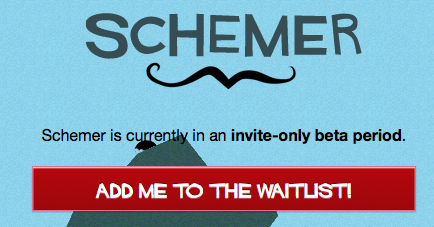 Schemer is Google's new addition to its existing feature portfolio that will help users to explore new things based on their location and likeability. The service is only available to users within US although international users can also the service. Fortunately we have some invites that we will be sharing with you that will allow users to sign-up for Schemer and check out the application.
Upon successful registration users are asked to enter their location that help the application to find Schemes based upon positioning. These schemes can anything that one can like essentially ranging from food, entertainment, fun, dreams etc. that one might like and want to do. For example if one sees something like "Party at Sirocco" they simply can add it to their schemes and having choices " I want to do it" or " I've Done it". The service also helps people draw inspiration from each other with Google Plus Circles allowing friends see added interest or schemes depending on the privacy settings implemented in a circle. These are just a few points that we have discovered during our experiments with the application. The website is still under beta mode with start-up schemes created by leading publishers like Food Network, National Geographic, Idealist and more. A big essential to use the service is that you to be on Google Plus.
If you find anything nice or have any suggestions to let us know, we would love to share it our readers. You can also leave the same as a comment so that people can view it.
If you are interested in singing up for the Google Schemer click on the links below to have a hands on fun and start sharing your invites with your buddies.
List of Invite Links (Incase of invites getting exhausted try alternative links):
If you guys still don't get an invite do leave a comment with your Gmail ID and we will send you an invite ! 😉