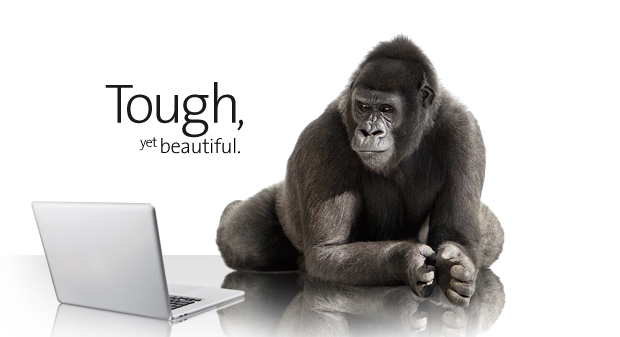 Every now an then we see our mobile devices and smartphones using the Gorilla Glass technology. The highly toughened and scratch resistive product developed by Corning Inc. The company plans to release an upgrade to this excellent technology by launching Gorilla Glass 2 at CES 2012. The concentration lies on smaller form factors, sleek design, and portability with unification to larger formats for consumer electronic devices. The product would inherit the existing set of features and benefits with a view to deliver added durability and scratch resistance protection. The segments that would benefit with Gorilla Glass 2 technology include education, auto, entertainment, and home appliances sector.
Corning's Gorilla Glass technology led the company to a mass boom at CES 2011 making it the most spoken about establishment. The Gorilla Glass has already been incorporated with a majority of 30 brands and design integration onto more than 575 different models. The product details are planned to be available by Monday, 9 Jan 2012 via an official announcement.
[youtube]http://www.youtube.com/watch?v=X0MhSIFgW9U[/youtube]
Get ready for a hands on experience on few devices for display on the Corning booth that include:
An 82-inch advanced multi-touch LCD display that features Corning Gorilla Glass as a durable, touch-sensitive, and elegant cover glass.
Touch-enabled automobile interior and home appliance center simulators demonstrating the enhanced user interface experience that thin, durable glass can enable in new design applications.
A centerpiece, Gorilla Glass-covered video wall, flanked by Gorilla Glass fabricated sound speakers, projecting the latest in Corning specialty glass technology news.