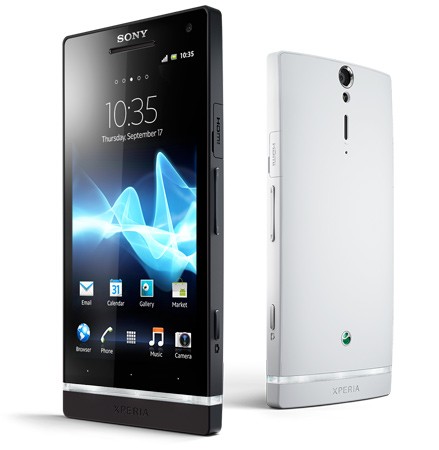 Sony Mobile has officially launched the Xperia S Android Smartphone in India. The Xperia S was showcased along the Xperia P and Xperia U at MWC 2012, which belongs to Sony's next generation flagship, the NXT Series. The Xperia S flaunts beautiful style and design while boasting great hardware specifications for stable performance. It comes with a 4.3-inch Reality Display (1280×720 pixels) with Mobile BRAVIA Engine, 1.5 GHz Dual-Core CPU, 1GB RAM, 32GB in-built storage, 1.3MP front camera (supports HD Video recording at 720p), 12MP rear camera with LED Flash (supports Full HD Video recording at 1080p), 1750 mAh battery and Android Gingerbread 2.3(supports upgrade to Android ICS 4.0 by Q2 this year).
Get ready to experience next generation media sharing by NFC (with Xperia SmartTags), DLNA, HDMI, BRAVIA Sync (allows your phone to controlled via a TV), along with basic connectivity features like 3G, Bluetooth, Wi-Fi and A-GPS. The handset is available in Black and White color and can be purchased either at a local retail outlet or can be ordered online with leading E-commerce platforms like Flipkart etc.
Also Read : Samsung Galaxy Note 'Berry Pink' launched in South Korea
Following the release for Xperia S today, the Xperia P, Xperia U and Xperia Sola would arrive India by the second quarter of this year. Just to make you remember the handset is priced at Rs.32,549. Do remember to check all online portals to find a bargain before you make the final purchase.
Checkout these links for price comparison, freebies and promotions :
Flipkart – Get a Car Charger and 2 Xperia NFC SmartTags free when you order.  (Rs. 32,549)
Letsbuy – Norton Mobile Security for Android absolutely free. (Rs.31,990)
IndiaPlaza – Get a Char Charger, 2 Xperia NFC SmartTags, Leather Case, and an HDMI cable free with your order. (Rs.30,999)