With many online retailers shutting shop between 2010-2012, the casualties of online retail businesses have started appearing in the public domain.
Recently, the online electronics retailer, Letsbuy.com has shut shop and sold its business to another online retailer, Flipkart. Flipkart had announced about the acquisition of Letsbuy.com earlier this year.
I believe no one shall miss the absence of Letsbuy.com due to its limited variety, high product pricing and poor customer service.
LetsBuy customers should hope that the products that they ordered shall  get delivered promptly and the ones which they have already received do not need any customer service from the erstwhile LetsBuy.com or its current owner, Flipkart.
Upon visiting the website of Letsbuy.com, the following closure and merger message is displayed: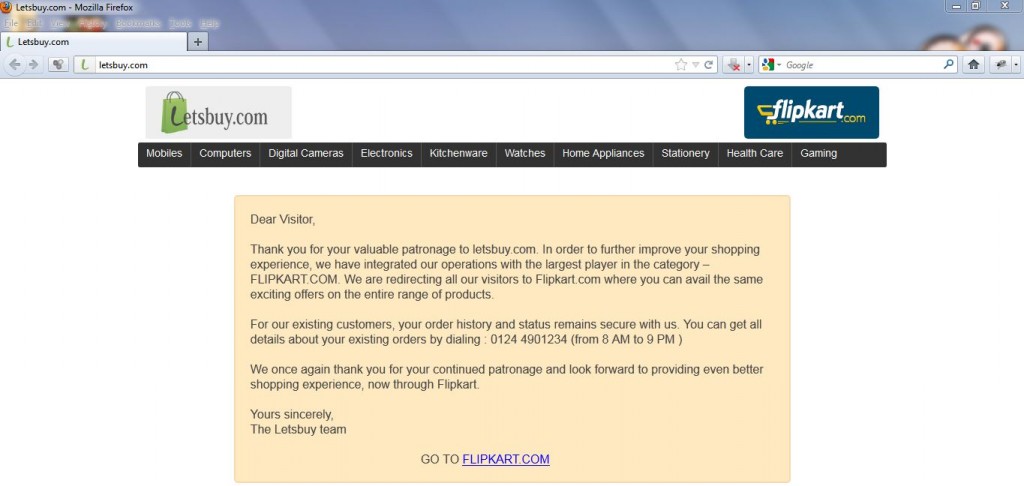 (Click on Image for Enlarged View)
12 years ago, in India, online retail and other businesses were projected by the techie community, as the next killer idea, the next big thing and were pitched as replacements to old and conventional brick-and-mortar businesses. These gave genuine reasons of concern to many businesses of all sizes.
However, many factors such as :
the lack of availability of high speed internet access,
the lack of availability of easy-to-setup and affordable e-commerce platforms,
the lack of availability of reasonably priced and secure payment gateways,
the lack of good supply chain management systems and
the lack of skilled workforce with domain expertise in areas such as purchases, warehousing, logistics, operations, accounting, taxation,  sales, customer service, etc.
coupled with:
the reluctance of the prospective consumers to buy products online, without seeing, touching, feeling and trying them before purchase,
unreasonably high prices of certain products (by certain Sellers with the disbelief that consumers are fools),
nominal usage of Debit Cards, Credit Cards and NetBanking facilities by the Indian consumers,
lack of effective Cash-on-Delivery systems,
very high return rates on Cash-on-Delivery transactions and
customers concerns about post purchase services, etc.
did not let those killer ideas and elevator pitches to translate into successful businesses.
A few survivors from that time are the erstwhile Bazee.com (now Ebay India), Rediff.com and IndiaTimes Shopping.
Just like any other conventional business, to become successful, an 'online retail business' has to be sustainable as well as profitable. An online retail business must be built with high standards of excellence and with a goal of building long term customer relationships.
Unfortunately, instead of building long term and lasting relationships with their customers, most online retail businesses these days, try to acquire more customers in a short span of time, by focusing only upon short term transaction based associations.
A customer may not like his neighborhood Retail Store, its products, its prices, the professional conduct and customer service. However, due to the limited number of choices available with him in his neighborhood, he may be constrained to buy from the same retail store.
This is not the case while making online purchases. In just a few clicks, the customer can effortlessly shift from one online retailer to another. The originally disappointing brick-and-mortar retailer is at the risk of losing a customer and other prospective buyers around his center of influence for life, in just a few minutes
These days, a new online retailer is appearing on the horizon every day. For most products and categories, the number of online retailers is increasing every day. Any decline in customer service and other commitments by an online retailer can result in the loss of a valuable customer and other prospective buyers around his center of influence for life, in just a few minutes.
Many online retailers have received large amounts of Capital from Domestic as well as Foreign Private Equity Investors. Many of these online retailers have adopted business strategies, which are neither sustainable nor profitable. With transaction based associations, dwindling consumer loyalties, they are at high risk of ending up like LetsBuy.com.
Let's hope Flipkart does not flip its own kart with its new acquisition and its current non-customer friendly policies and strategies.
You may also like: Homeshop18 beating Flipkart at its own game